TESTIMONIALS, FEEDBACK, REVIEWS – PORTABLE LEG STRETCH DEVICE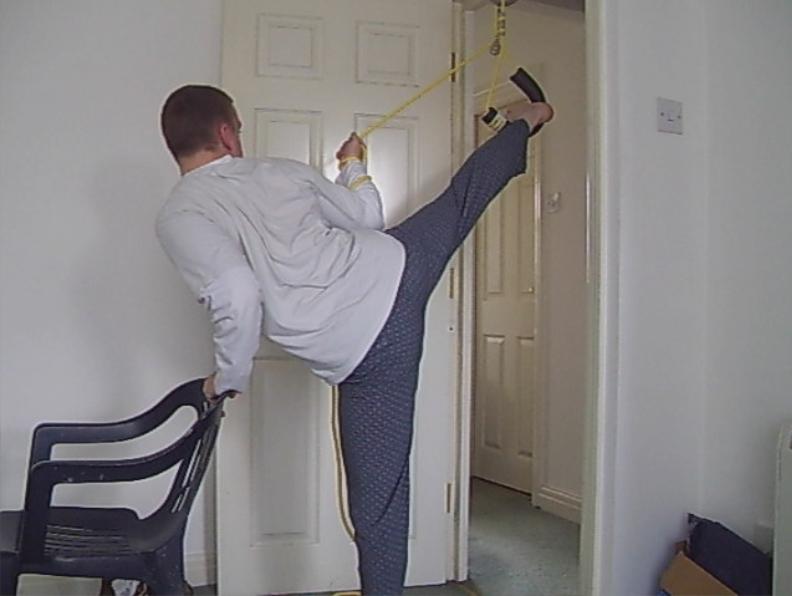 "The Stretch Loop™ is nothing short of superb. Its design is simple yet tremendously effective, and it succeeds where all other stretching machines fail.
For over 20 years I have been a practitioner of Tae kwon do, a martial art in which kicks are an integral part of the curriculum. Therefore I have always been interested in stretching, which includes trying every stretching machine available on the market.
Its unique design makes the Stretch Loop™ the best I have ever encountered. Most stretching machines are designed to simulate floor stretches such as the splits, but for athletes who use kicks in their sport (martial artists and dancers, for example) stretches such as splits ¨C and consequently machines designed to simulate splits ¨C are practically useless.
Flexibility is specific to the demands you place on your body. This is because there are two kinds of stretch receptors in your muscles: one which detects how far and how fast you stretch, and the other detecting how far only. In other words, flexibility is specific to the angle of the joints and position in which you perform the exercise. For that reason floor stretches, and therefore floor-mounted stretched devices, provide very little benefit to kickers.
The Stretch Loop™ is designed in such a way to provide you with the optimum position in which to develop maximum kicking-specific flexibility. Working out with this product also reduces stress on the joints and improves balance when compared to traditional floor stretches. The standing position of the stretches provides an additional kick to the cardiovascular benefits of your workout.
The instructions and exercise chart provided with the product are clear and very easy to follow, and setting it up ready for your workout takes just seconds. It is easily stored and portable, which makes it a winner for me because I spend a lot of time travelling the country delivering seminars on sports conditioning and self-defence. Needless to say I will take the Stretch Loop™ with me to use in my hotel rooms, as well as demonstrating its effectiveness in all of my future seminars.
I cannot say enough good things about this product and its creators. If you are serious about your training then you need the Stretch Loop™ in your workout! "
Dan Davies
20+ years martial arts experience, Tae kwon do and Kickboxing black belt, Certified self-defence instructor, Certified personal fitness trainer, Certified Yoga teacher,Certified Pilates teacher,Certified aerobics instructor.
GET KIDS MOVING! FIGHTING CHILDHOOD OBESITY
"Recently, we were able to try out a product that can enable a person to get a good lower body stretch more easily. The Stretch Loop, brainchild of Mario Tardif, seeks to simplify as well as extend the benefits of your stretch routine.
Handy and easy to use, the Stretch Loop has you use your own body weight to comfortably make the most of your stretching. Comprised of a rope and pulley fixture, it is simple enough for anyone to work with, whether an avid runner needing to stretch out your leg muscles before a run, a yoga instructor looking for a break in the routine of floor stretches, or a kid in a martial arts class. Easily portable you don't have to forgo the best part of your exercise program just because you're traveling.
Important for stress reduction, balance improvement, muscle performance and more, stretching is most often completed on the floor, alone, with a partner or with an unstable chair. For those who are uncomfortable or even just bored with these options, the Stretch Loop presents an enjoyable alternative. The rope is slid through the pulley which is affixed to either an eyehook in the ceiling or to a door jamb bracket. Your ankle goes through the looped end of the rope, and your hand gently pulls to create resistance at the opposite end. A noteworthy benefit breathing during the stretching is improved by the standing position thereby increasing your oxygen intake and enhancing your workout.
A quick set-up option is provided for with the inclusion of a door casing bracket; I would check the sizes of your door jambs first; you may not need to order the kit with door bracket if the bracket won't fit. If this is the case, a large eye hook is what you'll need for installation; directions for this are included in the kit.
A large diagram clearly illustrating 8 leg-stretch exercises is also included in the kit and can be hung on the wall near your Stretch Loop for easy reference; for me this is a very handy and necessary visual aide. Mario Tardif affords their prospective Users ample support through the website. Instructions are thorough and should be read carefully for safety information. A certain degree of physical ability is needed to perform these exercises, but with practice, they should become routine.
Posted by Jenny Goebel | Comments Off
I have been using the Stretch Loop for the past two years. I have found this simple device very rewarding. It has increased my flexibility and has allowed me to practice the martial art that I love well into my fifties. I can actually do high kicks without worrying about hurting myself. I recommend the Stretch Loop for all practicing martial artists. It takes so little time and the benefits far outweigh the time spent."
Michael Schroeder, 5th Dan tae kwon do
"I am happy to say Thank you. The Stretch Loop is great. I used to use it almost daily, but I am on a different training program for 90 days, so I use it weekly now. It has improved my stretching and flexibility. It was a great way for me to reach my goal of being able to do a split at 40 years old. I am not there yet, but I can say that I am way closer than I was prior to me using the Stretch Loop. I also travel on business and it worked great during my last trip. I highly recommend it to anyone who is interested and doesn't want to pay an arm and a let for a leg stretcher. The Stretch Loop does the same, and it will cost a fraction of the cost when it is in the market available for purchase."
Roger C. Ringer Jr.
"At the ripe old age of 53, I decided to take karate. Your product is excellent. I use it with other stretches and have been doing a routine that includes the Stretch Loop for about three weeks now. I can really notice the difference."
Paul Miller
"I am totally delighted with your Stretch Loop. It is so easy to use and the the results are immediate. I am 34 years old and started taking Karate with my 5yr old just last year. I had participated in 2 tournaments prior to using your product and since have been told by both judges and fellow competitors what a difference they have seen with my flexibility."
Thanks very much,
Heath W. Knight – 4/7/08
"The Stretch Loop is a good way to stretch when you are on the road. I live on the road 8 months of the year in hotels and will hang it in the door well. At home I use it every day to stretch before my work out. I work as a martial arts photographer and have to get up and down all day. The stretch loop helps to keep by legs from hurting.
Christopher Ward
"WOW, I AM A BELIEVER! I finally found a place that I could hang the stretcher and went through the stretches. I was amazed. It is so easy!! I know that stretching is good for you, and helps in aging as well. I have wanted to stretch consistently but it is so hard to sit on the floor and stretch for air! Even after that you haven't accomplished much! This was easy and very effective! 20 minutes after the stretch I had this sensation as if I had a rush of blood to the joints in my hips, and even my knees. My quads and hams felt great and almost rejuvenated. "
P. Wikenczy
Thank you, excellent stretching device. Compact and durable."
M. De Campo
"It's awesome!!! I have not gotten where I want to be yet (full splits) but I have easily doubled my flexibility to a chest high side and roundhouse without a warm up (cold). Before I could only go to the thigh level after a long warm up. The Stretch Loop allows you to stretch dynamically slowly and safely each time exceeding your limits a little more and more two or more times a day to retain muscle memory. No one says stretching isn't weirdly painful but the type of stretching discomfort becomes something you look forward to as you hold your position safely for as long as you can pushing further within your own body limitations. As with anything you want to last, you progress slowly over time to expand those tendons and ligaments so you can do your high kicks cold…nobody has time for an hour of stretching when your life is on the line or you are just late to class."
D. Wagner

"We have had the stretcher up and in use for over a month. People stand in line to use it. I have an open ceiling to our gym and hung it there instead of a door jam. I have several stretchers for the students to use, but yours is the one that sees the most use. I have tried it and found that it is very easy to use. It gives a better stretch than a regular floor model. It seems to assist with balance as well. I found that following the instructions and not relying on the stretcher to hold your weight forces you to work on balance at the same time. I wish you much success with your product. I am going to recommend it during my DT4EMS classes."
Kip Teitsort – Paramedic Self-Defense Instructor
"Your stretcher is simple to use and extremely effective and takes no space in home. I walk several miles per day. I am 58 years old and I am enjoying greater physical flexibility than I have had in over 20 years. Thank you. "
Larry Mutz -Water Meter Reader for City of Punta Gorda
"The stretcher is extremely effective, portable and light weight."
Kevin Formica -Business Owner -Karate Instructor for Kids and Parents
"Provides a more controlled stretch with less opportunity for injury. A more focused way to stretch. It forces you to balance the supporting leg which
develops strength."
Steve Hansen -Business Owner & Hockey Player
Feedbacks
The Stretch Loop worked so well for me that I requested one for my Brother as well. I got the portable unit, it is very easy to setup and start using. The company has videos available online to demo different stretching exercises. Very nice people as well.
I love this device. It allows me to do all those stretches that once seemed impossible, without all the pain of trying to force myself to go farther. Stretching used to be a dreaded activity, but now I look forward to it. I stretch every morning after I'm fully dressed for work. Remember, in actual combat, you probably won't have on a Gi or trunks.
The stretch loop worked as advertised. It was very easy to setup and easily stores behind the door when not in use. I mainly wanted this for an injured hamstring after a marathon. I can actually touch my toes now.
Great Product, easy to setup and use. Works as advertised. Helps me get maximum stretch without any assistance. Would gladly recommend this item to
anyone.
My son and I fight sometimes on who is going to use it first. We love it. You can take it anywhere you go which is great. I am going to take it to Florida so my son's friends can use it too. Thanks
This is the best leg stretcher. It should be on the market to anyone to
purchase.
Good Stretcher!!! Just As Described!! Thank You!! AAAAAAA+++++++–